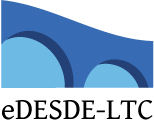 home > ABOUT eDESDE-LTC
ABOUT eDESDE-LTC
eDESDE-LTC aims at developing an operational system for coding, mapping and comparing services for Long-Term Care (LTC) across the European Union (EU). The system will include:
Standard classification of main types of care for persons with LTC needs,
An instrument for mapping and standard description of services,
This website,
A training package.
The STRATEGIC RELEVANCE is:
To improve EU listing and access to relevant sources of healthcare information via development of SEMANTIC INTER-OPERABILITY in eHEALTH (coding and listing of services for LTC);
To enhance effective networking of LTC services in the European Union;
To increase access to relevant sources of information on LTC services;
To improve linkages between national and regional websites; and
To foster cooperation with international organisations (OECD).
The ADDED VALUE is related to the right of "having access to high-quality healthcare when and where it is needed" by EU citizens. Due to semantic variability and service complexity, existing national listings of services do not provide an adequate framework for patient mobility. Contact points for patients that seek information on access to health care at national level have been suggested.
The group will develop eDESDE-LTC based on previous experience in related systems for mental health in the EU (ESMS), and in ES for disabilities (DESDE) and ageing (DESDAE). A Delphi panel made by 7 partners will develop a DESDE-LTC beta version. This version will be translated into 6 languages and feasibility will be tested in 6 countries using national nominal groups. A final version will be developed by the Delphi panel with this information. Then training material will be developed and courses will be carried out. eDESDE-LTC will be piloted in 2 EU countries (Spain and Bulgaria). Results will be disseminated to national health and social agencies, NGOs as well as international organisations including OECD. Usability will be analysed and the impact analysis will also be tested.
The OUTCOME is an operational system of LTC coding and description which may be useful for EU comparison and for improving access on LTC information. This website serves a dissemination tool for the project and its results.
Loading
NEWS & EVENTS
2012-09-25
Refinement Project - Summary
Summary of the REFINEMENT project. Presents the aim, objectives and expected results of the project funded under EU European Union Seventh Framework P...more
2011-12-05
Training courses on ESMS/DESDE coding
Two training courses on ESMS/DESDE coding were took place between 29 November and 2 December. The first in Verona, Italy and the second in Helsinki, F...more
The eDESDE-LTC Coding and Classification System, eDESDE-LTC Instrument, eDESDE-LTC Training Package and eDESDE-LTC website
by
eDESDE-LTC Consortium
are licensed under a
Creative Commons Attribution-NonCommercial-ShareAlike 3.0 Unported License