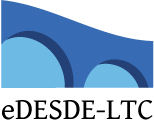 home > NEWS AND EVENTS
NEWS AND EVENTS
NEWS | EVENTS | NEWSLETTERS | ALL
Refinement Project - Summary
2012-09-25 - Topic Related
Summary of the REFINEMENT project. Presents the aim, objectives and expected results of the project funded under EU European Union Seventh Framework Programme (FP7/2007-2013). Three of the toolkits being developed are briefly described.
DOWNLOAD PDF
eDESDE-LTC Newsletter - January 2011
2011-02-07 - Project Related
The January 2011 issue of the eDESDE-LTC newsletter summarises the main project activities of the last semester.
DOWNLOAD PDF
eDESDE-LTC December 2009
2009-12-16 - Project Related
The December 2009 issue of the eDESDE-LTC newsletter
DOWNLOAD PDF
Loading
NEWS & EVENTS
2012-09-25
Refinement Project - Summary
Summary of the REFINEMENT project. Presents the aim, objectives and expected results of the project funded under EU European Union Seventh Framework P...more
2011-12-05
Training courses on ESMS/DESDE coding
Two training courses on ESMS/DESDE coding were took place between 29 November and 2 December. The first in Verona, Italy and the second in Helsinki, F...more
The eDESDE-LTC Coding and Classification System, eDESDE-LTC Instrument, eDESDE-LTC Training Package and eDESDE-LTC website
by
eDESDE-LTC Consortium
are licensed under a
Creative Commons Attribution-NonCommercial-ShareAlike 3.0 Unported License